BRASILICUM THE ALBUM PRELISTEN & DOWNLOAD THE SONGS DIRECT FROM THE ARTIST HERE
DOWNLOAD

CD ORDER - US/JAPAN

STORES - AUSTRALIA

CD ORDER - SWEDEN
1. INTRO – the airborne arrival to the spectacular Rio de Janeiro. Special appearance by legendary Brazilian percussionist Marcelo Salazar.
2. BRASIL – expectations of a huge and unknown country. North Eastern rhythms like Baião and Maracatú are mixed with Samba and Electronica. Brazilian singer Mila Conde features together with North Eastern percussionist Beto Madureira.
3. THE CAPOEIRA – developed by African slaves the Capoeira seems more like a graceful dance, rather than a fight, initially created for protection and liberation from the Portuguese surpressors. Pandeiro master, Marcus Suzano, appears together with percussionist Bill Lucas in this song with a strong flavour of Salvador and Bahia.
4. FINO MULATO – the imaginative growing up of a young boy in the favela hills of Rio. In this seventies style Samba Funk, Brazilian singer Zanna, also from the marvelous city, tells a beautiful story. Jorge Ben percussionist Ovídio features on cuíca.
5. COMIDA MINEIRA/FOOD OF MINAS – the food of Minas Gerais is famous all over Brazil for tasteful dishes and beautiful desserts. Australian singer Diana Clark and guitarist Doug de Vries features with Mineran cavaquinho virtous Warley Henrigues in this Samba.
6. SAUDADE TONIGHT – saudade is a Brazilian word that can not be fully translated, a longing for something or someone. Jaques Morelenbaum, legendary cellist behind artists like Bossa Nova master Tom Jobim, Caetano Veloso and Sting, makes a special appearance in this Bossa with Swedish Pop singer Mikael Lundstedt.
7. THAT CALL – the operators voice directs this ballad about a long distance call. Swedish singer Maria Rylander appears together with Brazilian trumpet player Guilherme Dias Gomes.
8. SUMMERS BH – Brazils third city Belo Horizonte, or BH, is known for rainy summers with powerful thunderstorms. Swedish singer Katarina Nilsson, sings about a foreigner that walks through the hills, with rain, pouring onto his mental wounds. Mineran guitarists Aliéksey Vianna and Warley Mascarenhas appears in this slow Bossa.
9. PERNAMBUCO MANIA – Pernambuco in the North East of Brazil, is a poor but joyful state that burst out in festivities during carneval time. This Baião and Forró influensed song features Australian singer Neda Rahmani, Brazilian João Lyra on 10 string guitar, Mhano da Silva on accordion, and percussionist Firmino, on zabumba.
10. SAMPA RUSH HOUR – Marcus Suzano, virtuoso on the pandeiro, appears on this instrumental track together with flutist and clarinetist Marcelo Carvelcenti Bernerdes and Swedish saxofon player Niklas Gunham. São Paulo, or Sampa, is Brazils biggest city, with 17 million people creating a tempo and lifestyle very different from the rest of the country.
11. NEGOCINHO – In this instrumental collage Swedish Chilean percussionist Paulo Murga works his way through the Brazilian percussion, starting with the tribal berimbau. Brazilian Rock percussionist Baía features on Bahian timbal.
12. BRASILICUM – the synthesis of musicians from all over the world with one thing in common, the passion for Brazilian Popular Music. This Batucada influenced track features Australian percussionist Mark Grunden and Brazilian percussionist Bill Lucas.
13. MEDITATION – as a very spiritual place, Brazil invites to meditation. Brazilian percussion master Marcelo Salazar improvises with Swedish musicians and sounds from Recife, Pernambuco.
14. BRAZIL (English version) – Swedish singer Ida Olsson appears on the English version of Brasil.
15. THE CAPOEIRA – ZANNA.NET REMIX - Zanna made this ambient, groovy version of The Capoeira song.
16. BRAZIL – WISEMAN REMIX - Sean Wiseman brings a tasty Chill Out version of Brazil.
17. SUMMERS BH – DJ ELEMENT07 REMIX - Summers BH turned into House by Dj Element07.
(AMSTERDAMSKY DUB NATION)
The Brasilicum CD is recorded in Australia, Brazil and Sweden 2004-2007 by Harald Erici, Carlos M. Milman – Mills, Rio de Janiero, Guilherme Dias Gomes – GDG Studio, Rio de Janeiro, Emil Lörelius – Playyard Studios, Stockholm, Junior Meira - Estudio Tribal, São Paulo, Katarina Nilsson – Studio Livart, Paulo Murga – Piteå School of Music, Roberto Pimentel – Belo Horizonte and Zanna - Rio de Janiero.
Produced by Harald Erici. Co-producers: Hans Hjortek, Katarina Nilsson, Marcelo Salazar, Zanna. Mixed by: Katarina Nilsson – Livart Produktion and Harald Erici, Långlöt/Stockholm.
Mastered by Ricardo Garcia – Magic Master, Rio de Janeiro.
All music and lyrics by Harald Erici except for "Brasil" – Portuguese translation by Mila Conde, "Fino Mulato" – lyrics by Zanna, "Pernambuco Mania" – lyrics by Neda Rahmani & Harald Erici. Musical arrangements by Harald Erici.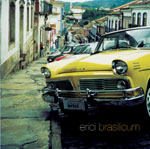 MUSICIANS ON THE BRASILICUM ALBUM
Marcelo Carvelcenti Bernerdes – flute, clarinet
Baía - timbal
Kristin Bertilius – flute, backing vocals
Lars Borg – double bass
Fernando Bueno – drums
Marício Caruso – electric guitars
Diana Clark – vocals
Mila Conde – vocals
Hans Dyvik – flugehorn, trumpet
DJ Element07 - keyboard, programming
Johan Engström – acoustic and electric guitars
Harald Erici – keyboards, programming, percussion, vocals, backing vocals
Firmino – percussion
Beto Ferreira – percussion
Martin Frennberg – drums
Veikko von Fürstenrecht – acoustic guitar, cavaquinho, percussion
Guilherme Dias Gomes – flugelhorn, trumpet
Mark Grunden – percussion
Niklas Gunhamn – tenor saxophone
Warley Henriques – cavaquinho
Håkan Jonasson – trumpet
João Lyra – acoustic guitar, 10 string guitar
Bill Lucas – percussion
Jonathan Lundberg - drums
Ingela Lundin – cello
Mikael Lundstedt – vocals
Vlado Markovic – electric bass
Warley Mascarenhas – electric guitar
Erik Melo – vocals
Juan Mendoza – double bass, electric bass
Jaques Morlenbaum – cello
Paulo Murga – percussion
Katarina Nilsson – vocals, backing vocals
Ida Olsson - vocals
Ovídio - percussion
Neda Rahmani – vocals, backing vocals
Mauro Rodrigues – flute
Maria Rylander – vocals, backing vocals
Marcelo Salazar - percussion
J C Schûtz - acoustic guitar
Mhano da Silva – accordion
Adriano Silveira – electric bass
Sandra Souza – vocals, backing vocals
Marcos Suzano – pandeiro
Aliéksey Vianna – acoustic guitar
Doug de Vries – acoustic guitar, cavaquinho
Jonas Wall – tenor saxophone
Urban Wiborg – trombone
Sean Wiseman - keyboard, programming
Zanna – vocals, backing vocals, keyboard, bass, programming