---
Erici Music has released music within a broad range of Pop, Jazz, Folk, and traditional songs. But there are more music to discover! Music that never made it to the record stores. Below the listed record releases you can preview samples of Aussie pop with Young Genius, pop songs by Ida Olsson Quartet, contemporary music, orchestral and theatre pieces by Harald Erici, a wedding marsch, schlagers and some Christmas songs. Enjoy!
---
ERICI MUSIC RELEASES:

TRIO ERICI - Sommarvind
( Erici Music 2015)


JUST LIKE WOOD - Different Shades of Grey
(Erici Music 2015)



JUST LIKE WOOD - To Make It Work
(Erici Music 2015)

TELMO ANUM - New Beat
(Erici Music 2013)

ERICI - Brasilicum
Jewel case (Erici Music 2008)

TRIO ERICI - Jazz på Öländska
(Erici Music 2003)
---
SAMPLE LIBRARY:
Erici
BRASILICUM


Recorded in Brazil, Sweden & Australia. Erici explores the Brazilian sounds!

get the songs

EPCD02 BRASILICUM - ERICI (Erici Music 2008) www
Ericis concept album around Brazilian Popular Music includes musicians from Sweden, Brazil and Australia.
Get the history behind the Brasilicum project here
BRASIL (2008) feat. Mila Conde - Beto Ferreira
THE CAPOEIRA (2008) feat. Marcos Suzano - Bill Lucas - Mauro Rodrigues
FINO MULATO (2008) feat. Zanna - Ouvídio
COMIDA MINEIRA/FOOD OF MINAS (2008) feat. Diana Clark - Doug de Vries - Warley Henriques
SAUDADE TONIGHT (2008) feat. Jaques
THAT CALL (2008) feat. Maria Rylander - Guilherme Dias Gomes
SUMMERS BH (2008) feat. Katarina Nilsson - Aliéksey Vianna - Warley Mascarenhas
PERNAMBUCO MANIA (2008) feat. Neda Rahmani - Firmino - João Lira - Mhano da Silva
SAMPA RUSH HOUR (2008) feat. Marcelo Carvelcenti Bernerdes - Marcos Suzano - Niklas Gunhamn
NEGOCINHO (2008) feat. Paulo Murga - Baía
BRASILICUM (2008) feat. Bill Lucas - Mark Grunden
THE CAPOEIRA Zanna.net Remix
BRAZIL Wiseman Remix
SUMMERS BH DJ Element07 Remix
Trio Erici
JAZZ PÅ ÖLÄNDSKA


Traditional folk songs from Öland are played with a touch of jazz on Trio Ericis debut album!

get the songs

EPCD01 JAZZ PÅ ÖLÄNDSKA - TRIO ERICI (Erici Produktion 2003) www
Traditional songs from Öland, Sweden, performed by Trio Erici.
JAG VET EN VÄN I VÄRLDEN (2002) Sture Larsson
KRUSPOLSKA (2002) Gotthard Sjöman
SJÖMANSVISA FRÅN ÖLAND (2002) Not. by Axel Leksander
KNOTA EJ (2002) Karl-David Nilsson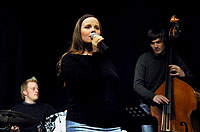 IDA OLSSON KVARTETT www
Swedish Pop quartet with singer Ida Olsson 1997-2005. Ida Olsson - vocal, Harald Erici - piano, Lars Borg - bass, Martin Frennberg - drums. All lyrics by Ida Olsson. Music by Harald Erici.
STORA ORD (2001)
FARFAR (2000)
IRRBLOSS (2000)
TÖRNROSKROPP (2000)
SVARTSJUK (1999)
TJEJEN HELA DA´N (1999
STANNAT PÅ FÖRUT (1999)
ETT EGET SPRÅK (1999)
NÅ´N (1997)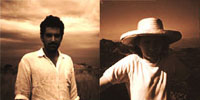 YOUNG GENIUS (AUS) more
Australien Pop act with producer Jamie Durrant and Bent Records. All songs are co-written with Jamie Durrant.
SONG # 1 (2001)
DIRTY (2001)
DAY THAT TURNS ME ON (2001)
SECRETS (2001)
NOTHING CHANGES (2001)
STRANGERS (2001)
GIRL FROM DAX (2001)
FEEL THIS WAY (2001)
CONTEMPORARY & CLASSICAL MUSIC

STEPS (2003) Piece for symphony orchesta score
PULSE (2001) Piece for five percussionists score
TI:ME (2000) Piece for orchestra
TAFFEL (2000) Tape/EAM
ROCK, POP & SONG
SOMMARVIND (2001) Trio Erici
JAZZ
PAYA LEBAR BLUES (2003) Big Band score
CHRISTMAS SONGS
BOSSA AT CHRISTMAS (2002)
JULEN HAR KOMMIT (1996)
SCHLAGER
OUVERTYR/PITESMASK (2002) Piece for orchestra. score
TRÄFFA RÄTT Lyrics: Ida Olsson. Piece for orchestra. (1998)
FOLK
BRUDMARSCH FRÅN LÅNGLÖT (1999) Piece for organ. score
WORLD
FRAGMENTS OF BRAZIL (2003) Co-writer: Paulo Murga
THEATRE, FILM & MUSICAL
DEN GODA MÄNNISKAN (2002)
GUDARS NATT (2002)
PUSSEL (2002)
FÖRÄLSKELSEN (2002) score
ROLLSPEL (2002)
ANKLAGELSEN (2002)
FILURENS SALSA (2002) "Det stora sagoprojektet"
Copyright 2019 Erici Music. All rights reserved. Any unathorized use prohibited. Contact
---
© 2019 ERICI MUSIC / ERICI WEB Sagovägen 11, 393 52 KALMAR - SE +46 739-163743 info@erici.se