BRASILICUM LIVE IN GOTHENBURG

| | | | |
| --- | --- | --- | --- |
| Jussanam Dejah (BR) | Maria Rylander | Ida Olsson | Harald Erici |
Swedish pianist and songwriter Erici, continues to bring the Brasilicum concept around the world. Brasilicum mixes Samba, Bossa Nova, Baião and Capoeira with Pop, Jazz and Electronica. This time he got a Swedish setup of musicians, all dedicated to Brazilian Popular Music. Special guests are also invited to the first three Sweden concerts. Welcome to experience Brasilicum Live!
See the photos from Brasilicum Live in Gothenburg >>>
Maria Rylander - vocal
Harald Erici - piano/keyboard/vocal
Klas Nilsson - trumpet/flugelhorn
José Zammel - guitar/vocal
Christopher Ek - bass/vocal
Calle Af Ekenstam - drums/percussion
>> Erici came to Brazil in 2003 and got in love with the Brazilian sounds. After several travels and research in Brazilian Popular Music he created the Brasilicum concept. The Brasilicum album was launched in Rio de Janeiro in 2008. Now he presents the first concerts in Sweden,

<< Maria Rylander

,

jazz singer from Öland that now resides in Gothenburg. Maria takes part of the local Jazz scene with various collaborations. She participates on the Brasilicum album and is the lead singer in the Brasilicum setup in Gothenburg.

<< Jussanam Dejah

is from Rio de Janeiro but now lives in Reykavik, Iceland. She has a past as an actress on Brazilian TV and theather. Jussanam is invited to Sweden especially for the Brasilicum concerts. She will also make a Tom Jobim tribute concert in Gothenburg the 22nd.

>> Ida Olsson, participates on the Brasilicum album and will make a special apperaance the 23rd. She is an established pop singer with three record releases; "En tur på livet" 2005, "Andas Solsken" 2006 and "Ida & Simon" 2008.
Check also:
myspace.com/ericimusic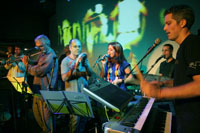 BRASILICUM LIVE IN RIO
Find out how Brasilicum went live in Rio de Janeiro!